Guardians of the Galaxy Vol. 3 served as both a finale and a premiere, showcasing the final appearance of the most popular iteration of the team on-screen together while also introducing a brand-new Guardians squad by the time the credits stopped rolling. Kai Zen's character Phyla is one of the new members of the squad. James Gunn, the creator of the MCU's version of Phyla-Vell, one of the most intriguing Guardians characters in the comic book source material, James Gunn claims that bringing the character to life was all his idea.
"Mine," the filmmaker replied to a fan on Threads who inquired about particular requests made by studio executives during the film's creation. "I don't recall Marvel having any requests."
@jamesgunn posted in an Instagram thread confirming his idea for introducing the spoiler in Guardians of the Galaxy Vol. 3: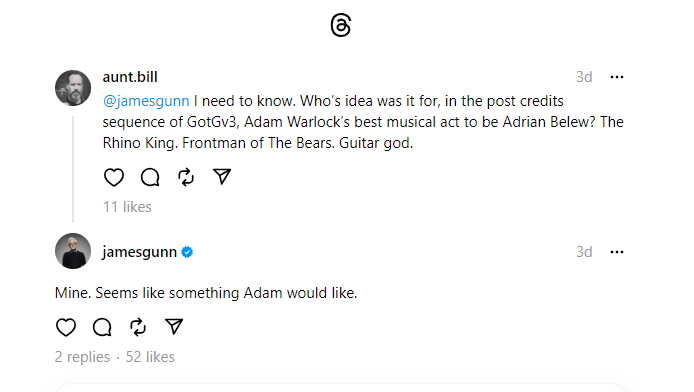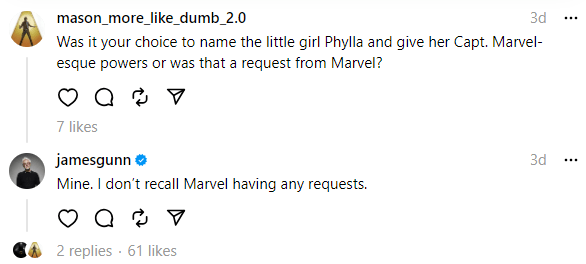 Will the Guardians return?
Though it's almost certain that the film franchise will return because it's one of Marvel's most popular, Gunn has declared that Vol. 3 will be the final time this exact line-up appears together, barring any big changes in the future.
"This is the end for us, the last time people will see this team of Guardians," Gunn confirmed last year. "It's big; it's so, so big and dark, and different from what people might be expecting it to be." Gunn went on to say, "I just want to be true to the characters, the story and give people the wrap-up that they deserve for the story. That's always a little bit scary; I'm doing my best."
According to the official synopsis: "In Guardians of the Galaxy Vol. 3, our beloved band of misfits are settling into life on Knowhere. But it isn't long before their lives are upended by the echoes of Rocket's turbulent past. Peter Quill, still reeling from the loss of Gamora, must rally his team around him on a dangerous mission to save Rocket's life — a mission that, if not completed successfully, could quite possibly lead to the end of the Guardians as we know them."
Guardians of the Galaxy Vol. 3 is now streaming on Disney+ and available for purchase on licensed online stores.