During a full day of promotional activities, including a special screening at the TCL Grauman Chinese Theatre, filmmaker Gareth Edwards expressed his support for the cast of "The Creator" as the SAG-AFTRA strike entered its 67th day.
During a series of video interviews held at the London Hotel earlier today, Gareth Edwards wore a collection of black T-shirts featuring the names of the actors in his cast. This was a visual and spirited tribute to the talented actors who played pivotal roles in the $80 million sci-fi film "The Creator," produced by New Regency, 20th Century Studios, and Disney. Notable cast members include John David Washington, Gemma Chan, Allison Janney, Madeleine Yuna Voyles, Ken Watanabe, and many others.
This all led to Edwards orchestrating a special moment at the Chinese Theatre tonight, where the audience recorded a heartfelt message in support of the striking cast.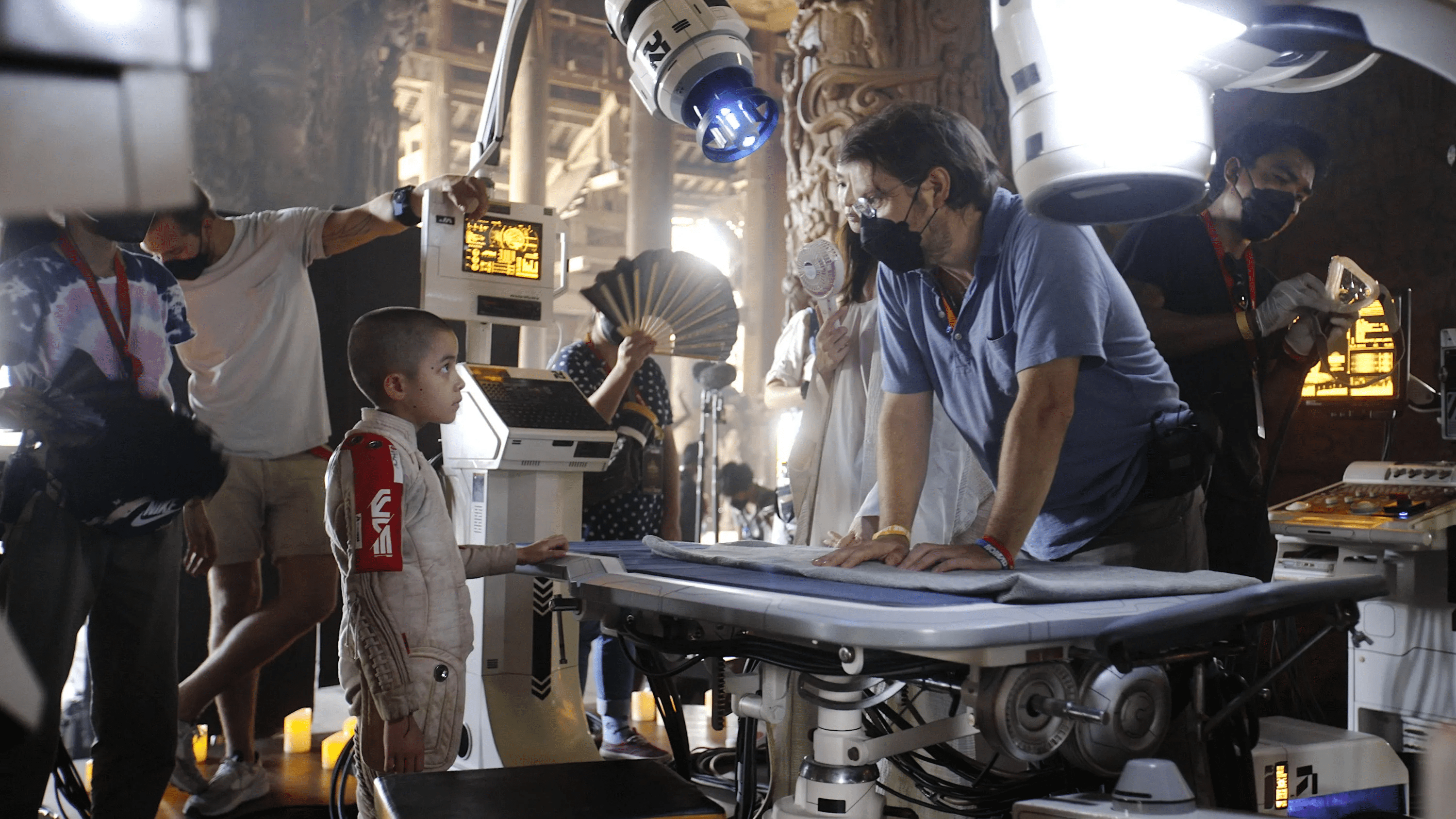 While recording the video on his phone, Edwards conveyed to his cast, "Hi everyone, really miss you, wish you could all be here, but I made some new friends and they all want to send you a message of love and support." This statement prompted an enthusiastic cheer from the entire theater. You can view the video below.
Edwards demonstrated remarkable foresight when creating "The Creator," as the film delves into a conflict between humans and AI robots. In a town where thoughts about the impact of AI resonate with many, from studio executives to WGA and SAG-AFTRA members, the film's narrative is quite timely. In the movie, Washington's character, a spy mercenary, forms a connection with Maya (portrayed by Chan), the mastermind behind the AI robots' dominance, especially a pivotal robotic child crucial to the robots' war against humans. Throughout the film, Joshua, played by Washington, safeguards the child while searching for Maya. Edwards collaborated on the screenplay with Chris Weitz, his co-writer from "Rogue One: A Star Wars Story."
Edwards commented tonight on his most recent film, stating, "No one is really creating original sci-fi blockbusters anymore, it's an endangered species."
During a recent trailer release, Edwards mentioned that when he presented the film, executives inquired about the background story explaining the conflict between humans and A.I., essentially asking if artificial intelligence was a wise concept. Edwards stated, "The setup of that movie is pretty much the last few months."
"A.I. was the fairy tale of this story. A.I. was like the other — the people that were different to us, that we kind of want to get rid of," he clarified on August 29. "But the second you make an A.I., all kinds of fascinating things start to happen."
The Creator is set to premiere in theaters on September 29, with screenings available in both Imax and PLF formats.
#TheCreator Director Gareth Edwards records a video message to send to the actors from the film since they weren't at the screening tonight in accordance with strike guidelines pic.twitter.com/3Wz9PKAYoj

— Deadline Hollywood (@DEADLINE) September 19, 2023